The story of Britain's unusually large penny
Posted by Mark Liversidge on
The George III 'Carthwheel' Penny was struck over 200 years ago, but it is still without a doubt one of Britain's most fascinating coins. With a diameter of 36mm and weighing a full ounce, it is the largest and heaviest penny ever struck by some distance.
But why was it made so big?
By 1797, counterfeiting was common practice and genuine copper coins were regularly being melted down to make lightweight forgeries. A solution to prevent this was put forward by engineer Matthew Boulton, who proposed that each coin should be made to contain its value in copper. He also suggested using a retaining collar to produce a perfectly round coin and a thick raised border to prevent the coin wearing so easily. 
Boulton was awarded a contract to supply 480 tons of pennies from his famous Soho Mint in Birmingham, and his Carthweel Penny became the very first coin to be struck using a revolutionary steam-powered coin press - a piece of history in itself.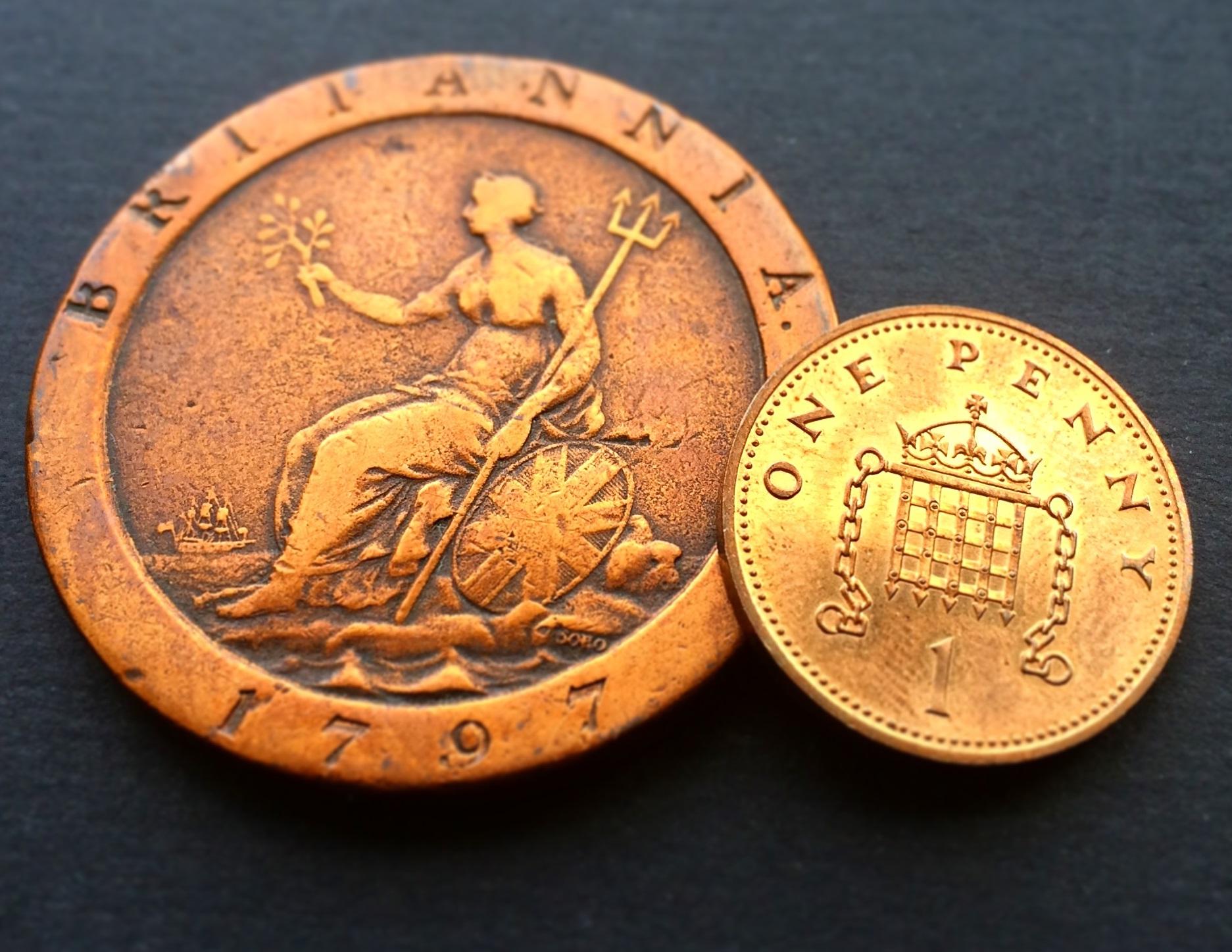 With each coin weighing an ounce of near pure copper, it was a big adjustment for the British public to make and the large size of the coins combined with the unusual raised rim led to their nickname 'Cartwheels' which stuck.
The image on the left puts in perspective the sheer size of the Cartwheel Penny when placed next to a modern penny. 
1797 was the only year that the Cartwheel Penny was struck. By 1806 the price of copper had risen, and as a result the second Soho penny type of that year had a reduced weight.  In fact, from then onwards the intrinsic value of a coin was always made to be less than the face value.
The 'Cartwheel' Penny marked the start of a revolutionary new approach to striking coins from which the industry didn't look back. Its short lifespan and unconventional size are also characteristics which make this an incredibly popular coin for collectors both domestically and internationally.
Click here if you would like to add an original 1797 George III Cartwheel Penny to your collection.
---
Share this post
---
---
---