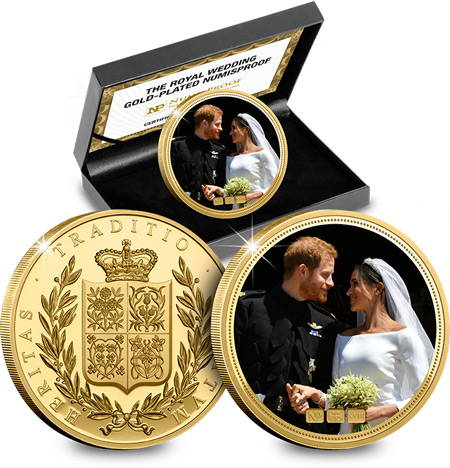 Celebrate the Royal Wedding with the on-the-day Gold-Plated NumisProof
 • New NumisProof release
• Plated in 24 Carat Gold
• Stunning on-the-day Wedding Photo
As the Royal Couple left the Chapel to rousing cheers, everybody was scrambling to get their special souvenir picture of the moment.
And now, with the wonders of modern technology, the NumisProof Advisory Committee has just approved this stunning on-the-day picture for a remarkable wedding day release.
In collecting terms it's a first - the fastest NumisProof ever produced.
Plated in 24 Carat Gold, this is likely to be the very first to feature an image from the actual Wedding Day and you can reserve yours right now.
YES, Please send me my Royal Wedding Gold-Plated NumisProof for just £40.
Please note shipping is due to commence mid-June
Metal: Gold-plated
Finish: Proof
Diameter: 50mm
Weight: 53g
Reverse: Photo from the day
Obverse: NumisProof Heraldry Design