The 2017 £1 Collecting Pack
Own the
UNCIRCULATED UK £1 Collecting Pack

today for

just £30

(+p&p)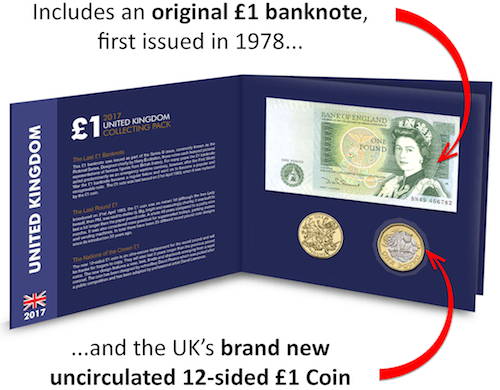 Upgrade your order to the Uncirculated UK £1 Collecting Pack and In addition to the Last Round Pound you will receive both its predecessor and its successor:
A mint condition original UK £1 banknote
The £1 banknote was first issued in 1797 and existed right up until 1988. Yours is one of the last editions, preserved in its perfect, uncirculated condition. 
The UK's brand new 12-sided £1 coin
The UK's revolutionary new 12-sided £1 coin is billed as the most secure in the world and this year's historic first issue is included in immaculate Brilliant Uncirculated condition. 
To secure your Uncirculated £1 Collecting Pack for just £30 (+p&p) simply choose UPGRADE below
Approx. Size: 150mm x 170mm
*****************************************
£1 Banknote
Size: 135mm x 67mm
Year: 1978-1988
*****************************************
2016 Last Round £1
Metal: Nickel-brass
Weight: 9.50g
Diameter: 22.50mm
*****************************************
2017 Nations of the Crown £1
Metal: Inner: Nickel-Plated Nickel-Brass, Outer: Nickel-Brass
Weight: 8.75g
Diameter: 23.43mm
Please note the maximum order quantities as follows:
The Certified BU Last Round Pound: 3 per household
The Uncirculated £1 Collecting Pack: 10 per household