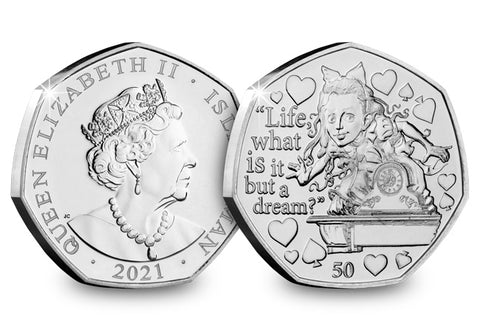 Alice Through the Looking-Glass BU 50p
Today, you can own a 50p coin released to celebrate the sequel to Lewis Carroll's tale of nonsense 'Through the Looking-Glass, and What Alice Found There'.
Since its release, the first Alice's Adventures in Wonderland 50p Coin has seen unprecedented demand. From coin collectors to Alice fans, demand has been huge and as a result the coin has become one of the most popular releases this year!
So, it felt only right to enter the fantastical world again, one last time…
Alice Through the Looking-Glass 50p Coin
Authorised for release by the Isle of Man Treasury and fully approved by Her Majesty the Queen, this isn't something you want to be late for.  
The coin features a carefully curated design, by renowned illustrator Stephen Lee, of Alice about to enter the Looking-Glass, alongside an excerpt from the book; "Life, what is it but a dream?"
What's more, this 50p is legal tender on the Isle of Man and 10,000 will be issued into circulation. 
Bespoke Presentation
Struck to the collector's favourite specification, Brilliant Uncirculated Quality, your coin will arrive free of the marks and scratches found on circulating coinage.
It will come protectively housed in a bespoke presentation pack, carefully curated by the coin's designer as the perfect pairing. This means your coin can be safely stored for years to come.
"There's nothing to cry about" providing you hurry and secure your coin today for JUST £5! (+p&p)
---

Or, to own the complete Brilliant Uncirculated 50p Set click here >>
Specifications
Country of Issue: Isle of Man
Year of Issue: 2021
Coin Diameter: 27.30mm
Coin Weight: 8g
Obverse: Jody Clark
Reverse: Stephen Lee/ Matt Tindall
Metal: Cupro-Nickel
Finish: Brilliant Uncirculated
---
We Also Recommend
---