Very Good

Very Good! It took a long time by post but I finally got it. Thank you for the great collection of stamps! Cheers!
Queen Elizabeth II Secret Watermark Collection
'Secret' watermarks feature within many of Britain's historic stamps. They're not used on modern stamps, but historically, watermarks were used in an attempt to prevent stamps being forged - all the way back to the very first Victorian stamps.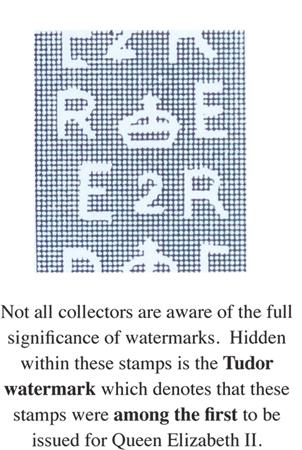 Over time they have become one of the keys to the collector value of a particular stamp - with the watermark often making all the difference to the desirability of a stamp issue.

The Wilding Tudor Watermark Series – the first stamps of Queen Elizabeth II's reign and possibly due to the watermarks within - are considered by many to be the most desirable.

The first stamps of Queen Elizabeth II's Reign

Queen Elizabeth II became Queen on 6th February 1952, on the death of her father King George VI. After the initial period of mourning, work began on the new stamps for her reign. Within a week, photographerDorothy Wilding had been chosen to shoot a new portrait of the Queen, following on from her acclaimed work with the Queen's father and mother in 1937. 

By the end of 1952 the first stamps of the reign had already been issued – the 1½d green and the 2½d carmine-red.  These first stamps were to be followed by a further 15 definitive stamps, ranging in value all the way up to the 1s6d – regarded as one of Britain's first airmail stamps. A total of 17 Wilding Definitive Stamps were produced.
The Tudor Watermark
These 17 stamps were issued between the end of 1952 and 1954. During that period they featured the original Queen Elizabeth II watermark – the Tudor Watermark.

By 1955 however, this watermark had been replaced by a new version – the Tudor watermark was therefore used for just 2 years and never again featured within the definitive stamps of Queen Elizabeth II.

This is your opportunity to own these stamps in unused condition and complete with presentation folder. Simply click 'Add to Cart' now.
---
Specifications
Presented with a certificate and presentation folder
17 Stamps in total
---
We Also Recommend
---