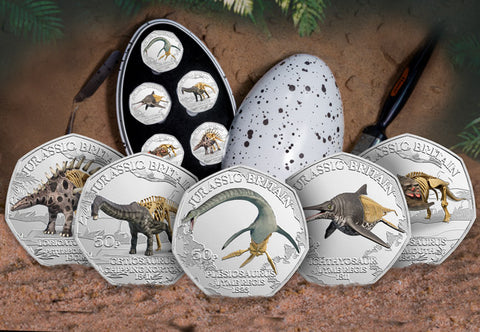 Brilliant if you are a Dino lover and coin collector you need this
Dinosaur BU Colour 50p Set
A brand-new set of 50p coins, celebrating the 200th anniversary of Mary Anning's first complete skeleton discovery, has just been released!
JUST 995 Available Worldwide
JUST 995 of the Special Colour Edition Sets featuring the Dino Egg Presentation Case have been authorised for release.
Four reasons a complete sell-out is expected:
1) A Great British Discovery on British Isles 50ps
These new coins feature Jurassic beasts that have been discovered in Britain by Mary Anning 200 years ago. She shattered the glass ceiling of her era, inspiring countless future scientists, especially women, to pursue their passions and make their mark in the world of science.
2) Designed by Britain's Leading Dinosaur Illustrator
The coins feature vivid colour designs by Britain's leading Dinosaur illustrator - Roger Harris. It's the first time his work has appeared on legal tender coins.
3) Ground-breaking X-Ray Style Artwork
Each design features unprecedented half-and-half artwork – revealing the skeleton of each Jurassic beast - rendered in a hyper-detailed X-ray style.
4) Bespoke Presentation – a Fusion of Art and Science
Beautifully stored in a bespoke egg-shaped presentation case, you're left with a stunning presentation with an ancient story to tell.
Secure yours today.
Specifications
Country of Issue: Isle of Man
Denomination: Fifty Pence
Year of Issue: 2023
Metal: Cupro-Nickel with selective colour print
Diameter: 27.3mm
Weight: 8g
Reverse: Roger Harris
Obverse: Glyn Davies
Finish: Brilliant Uncirculated
Edition Limit: 995
---
We Also Recommend
---