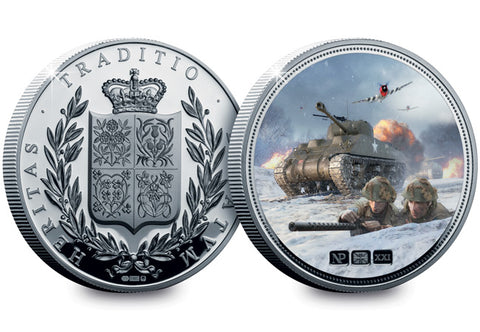 A Beautiful Coin

This coin is one of the nicest in my collection. I usually purchase from the Royal Canadian Mint since I live in Canada, but the Westminster Collection offers awesome coins at a fair price. The Battle of the Bulge coin is very detailed and beautifully packaged. The write-up that comes with the coin is very informative. I would recommend this coin to any avid collector.
Battle of the Bulge Silver 2oz NumisProof
BRAND NEW Commemorative to mark the Battle of the Bulge
Beginning on 16th December 1944 and lasting for six weeks, the Ardennes Counteroffensive, also known as the Battle of the Bulge, was the final push the Germans made during World War Two.
The Allied success in this battle essentially paved the way for entry into Berlin, and the end of the war. In fact, this battle was so important, Winston Churchill famously said it was 'Undoubtedly the greatest American battle of the war'.
Now, in tribute to the huge impact it had in ending the war and to mark the anniversary of the end of the battle, a special new commemorative has been released.
LIMITED EDITION 2oz Silver Numisproof
This fantastic commemorative has been struck from 2oz of Silver and features a full colour image of the Battle of the Bulge designed by Adam Tooby.
NumisProofs are already a complex piece for the Mint to produce, which is why they're always issued in extremely low numbers and are reserved for only the most important anniversaries.
However, this NumisProof has one of the lowest edition limits we've ever seen. Only 495 will ever be released, and considering the inevitable interest from collectors in the USA, they won't be available for much longer.
Considering the previous popularity of Silver NumisProofs (many of which have sold out) and the historical importance of this anniversary, demand for this BRAND NEW Commemorative is guaranteed to be high.
Make sure you secure one for collection, click 'add to cart' now.
Specifications
Metal: .925 Silver
Diameter: 50mm
Weight: 2oz
Finish: Proof
Obverse: NumisProof Heraldry design
Reverse: Battle of the Bulge by Adam Tooby
Edition Limit: 495
---
We Also Recommend
---