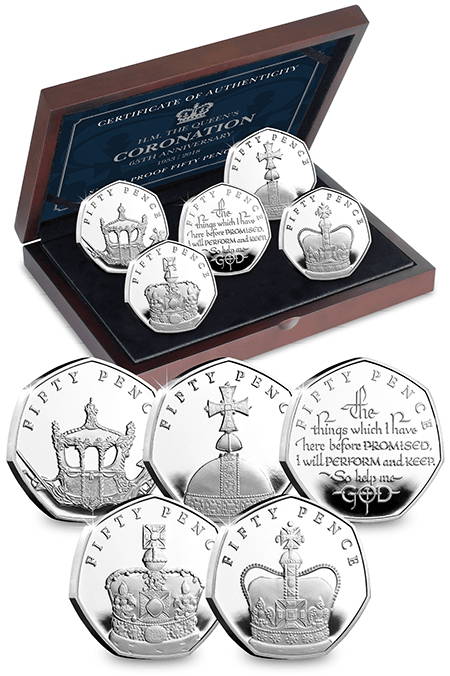 Before you check out...
UPGRADE TO THE COMPLETE SET OF
FIVE SILVER 50P COINS with
your exclusive 10% saving
Your Coronation Oath coin is actually the centrepiece of a new five coin commemorative silver proof 50 pence set issued to mark this historic milestone.
The other four coins are equally significant - The State Coach, The Sovereign's Orb, the St Edward Crown and the Imperial State Crown.
Limited to just 495 complete sets worldwide
These coins will enter official circulation on the Isle of Man, but just 495 complete five-coin sets have been released in Sterling Silver Proof - a true treat for the serious collector.
United Kingdom 50 pence silver proof coins are often issued in editions of several thousand - even tens of thousands. That makes the 495 edition limit seem very scarce indeed, and this set is sure to become a future collector priority.
You can add the other four coins to your order and secure the 65th Coronation Anniversary Silver 50p Coin Set with an exclusive 10% SAVING - making your set just £265.50 (+p&p). Click Yes Please below to upgrade your order today.  
Please note that your 10% discount will be applied upon checkout.
Country of Issue: Isle of Man
Year of Issue: 2018
Denomination: Fifty Pence
Metal: 925/1000 Silver
Weight: 8g
Diameter: 27.3mm
Finish: Proof
Obverse: Jody Clark
Edition Limit: 495