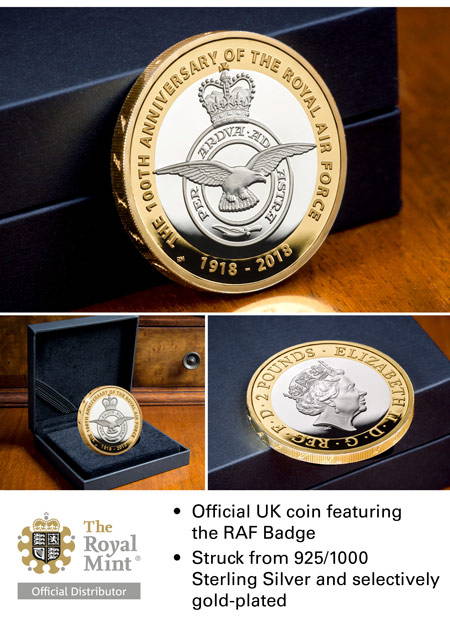 Before you check out….
Your chance to own the RAF Badge Centenary Silver Proof £2 Coin
The RAF Spitfire £2 coin is one of five in a series of UK £2 coins celebrating the centenary of the RAF.
The Royal Mint have confirmed that three other RAF Aircraft Coins will be released later in the year - the Avro Vulcan, the Sea King helicopter and the RAF's newest aircraft, the Lightning II.
Alongside these RAF Aircraft Centenary £2 coins there is also an overarching coin that carries the Badge of the RAF. The badge has varied little over 100 years and is a symbol of the RAF's continued strength and resilience.
This is the perfect addition to your Spitfire £2 coin and to pay tribute to the brave men and women from the last 100 years.
With edition limits of JUST 7,500, don't delay - start your UK RAF Centenary collection today and add the RAF Badge AND Spitfire Silver Proof £2 coins to your cart for just £67.50 each (+p&p).
Weight: 12g
Diameter: 28.4mm
Metal: Inner - .925 Silver, Outer - .925 Silver with Fine Gold Plating
Limited Edition Presentation: 7,500
Obverse: Jody Clark
Reverse: Rhys Morgan
Denomination: £2
Finish: Proof
Country of issue: United Kingdom
Year of issue: 2018