Game of Thrones Stamps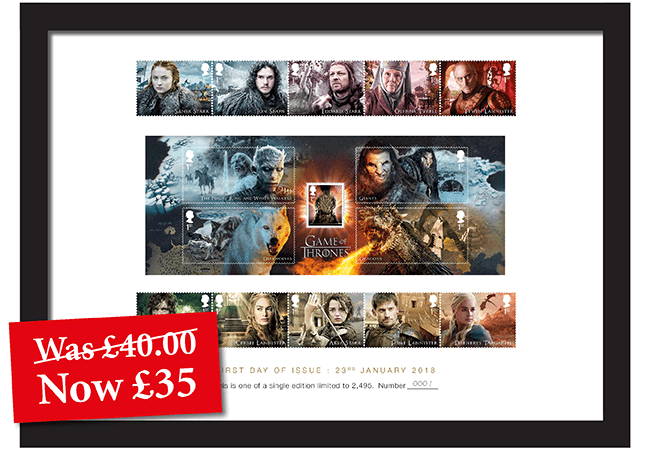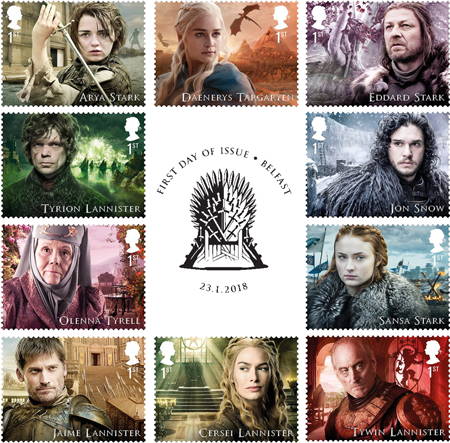 Own Royal Mail's Brand New
Game of Thrones Stamps
Limited Edition Framed Collector Card
Order now for an exclusive £5.00 SAVING
Professionally Mounted and Framed
To celebrate the world's love for the hit fantasy show, Royal Mail have issued a BRAND NEW set of 15 Game of Thrones Stamps, featuring all your favourite characters - including Jon Snow, Daenerys Targaryen, Cersei Lannister, Jaime Lannister, Arya Stark, Sansa Stark, the Night King, Drogon, Ghost & the Iron Throne. 
Just 4,995 sets of Game of Thrones Stamps have been reserved for this exclusive Limited Edition Collector Card, officially postmarked by Royal Mail with the stamps' first day of issue - 23 January 2018 - and Professionally Mounted and Framed, ready for you to hang. Reserve yours today.
Order today and receive an exclusive £5.00 SAVING.
YES , please send me the special Limited Edition Framed Collector Card featuring Royal Mail's Game of Thrones Stamps, with my £5.00 SAVING, for for JUST £35 (+p&p).
Frame Size: A4
Size of Stamps: 41(w) x 30(h) mm
Size of Miniature Sheet: 192(w) x 74(h) mm
Postmark: 23/01/2018
Edition Limit: 4,995