Alice

A nice collection. Good value for the money.

Lovely set

I bought this as a gift for my daughter alice.... Its a really lovely set, well presented and not too expensive.

Sorry but not happy

In the photo, the words and pictures on the coins were very sharp and crisp and easy to make out. But when the coins arrived, the words and pictures were really hard to see. Maybe the action is too shallow or maybe they need to be rubbed with some sort of coating that will make the lines darker. I am not an expert so I don't know what would fix the problem but the words and images need to be made a whole lot sharper and easier to see. Right now, they are too hard to make out and I simply did my money. The coloured coins were probably the better option but they were way too expensive for me. So if they are going to sell non-coloured ones too, they need to make them sharper in the details. So no, not happy. Well you asked.

Hi Lori,

Sorry to hear you aren't happy with your coins. If you could email us at enquiries@westminsterinternationalshop.com with your order number and some photos of the coins we would be more than happy to look into this further for you.

Thanks,
Hannah

Wonderful pieces

These coins are lovely and very made perfect for any collection

Down the rabbit hole

What a superb collection and the perfect gift for a friends 50th who is an Alice in wonderland nut!!
Alice's Adventures in Wonderland BU 50p Set
It's time to fall down the rabbit hole and celebrate over 150 years since author, Lewis Carroll, narrated his tale of nonsense with the release of FIVE NEW 50p coins.
These coins are, without a doubt, some of the most visually appealing coins ever minted. In fact, they could easily become one of the most popular numismatic releases of 2021.
Introducing FIVE NEW Alice's Adventures in Wonderland 50ps
Authorised for release by the Isle of Man Treasury and fully approved by Her Majesty the Queen, this latest collection of 50p coins isn't something you want to be late for.
The set features FIVE 50p coins, each with a carefully curated design by renowned illustrator Stephen Lee. The designs depict the books most beloved characters alongside quotes inspired from each one, including:
Alice

 

"What a curious feeling!" said Alice.
Cheshire Cat

 

"We're all mad here".
Queen of Hearts

 

"That's enough! Off with their Head".
The Mad Hatter

 

"I am under no obligation to make sense to you".
The White Rabbit

 

"The hurrier I go, the behinder I get".
Housed in a stunning presentation pack
Struck to the collector's favourite specification, Brilliant Uncirculated Quality, these coins are free of any of the marks and scratches usually found on circulating coins. And what's more, they come protectively housed in a beautiful presentation pack, carefully curated by the coins designer. This means your coins can be safely and securely presented for years to come.
Importantly, this set is one of the only ways you can own all five of these 50p coins, only the Alice 50p coin will be released individually.
So don't be late, for this very important date! Secure your set today for just £31.25 (+p&p).
---

Or, own the Strictly Limited Silver Proof 50p Collection >>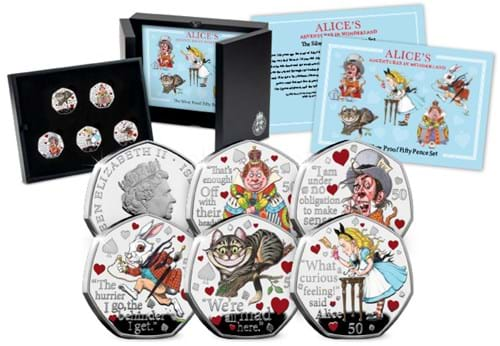 Specifications
Country of Issue: Isle of Man
Year of Issue: 2021
Coin Diameter: 27.30mm
Coin Weight: 8g
Obverse: Jody Clark
Reverse: Stephen Lee/ Matt Tindall
Metal: Cupro-Nickel
Finish: Brilliant Uncirculated
---
We Also Recommend
---