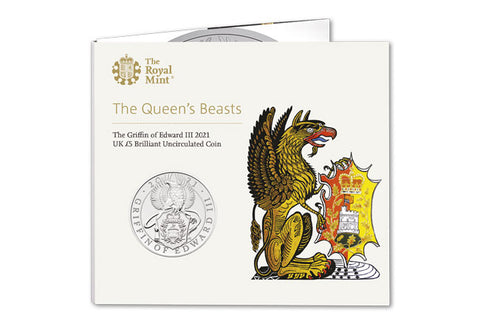 Nice coin

First time buyer, Sense of secure online purchase. Wait for new design

Magnificent

I am so proud to know that the actual beasts were re-created for her Majesty's coronation are now permanently located in Canada. We will take good care of them. However, I think I am still missing a coin from earlier in the collection, but I'm not sure which one because I have been gifting them to my daughter as they arrive. I will be getting back to you on that.
UK 2021 The Griffin of Edward III £5 BU Pack
Her Majesty the Queen is guarded by ten fantastical creatures known as The Queen's Beasts.
The Beasts represent hundreds of years of ancestry, heritage and tradition and their heraldic statues guarded the monarch at her Coronation in 1953.
The Queen's Beasts series has been a proven hit with collectors, and The Royal Mint has just released the tenth and final beast in the collection – The Griffin of Edward III.
In heraldry the griffin is a sentinel and is a guardian of sacred objects and a talisman against evil. First used as a royal beast by Edward III, the epitome of medieval kingship, the griffin's coronation shield depicts Windsor Castle, where Edward founded the Order of the Garter in 1348.
The reverse of this coin features a heraldic depiction of The Griffin of Edward III by Jody Clark which truly captures the magnificence of the tenth and final heraldic beast in the Queen's Beasts collection.
This coin has been struck to Brilliant Uncirculated quality, so you know it will be free from any of the marks or blemishes you would find on coins in your change. It comes beautifully presented in bespoke packaging from The Royal Mint and is available at The Royal Mint issue price of JUST £13 (+p&p).
Avoid disappointment by clicking 'add to cart' to secure yours today.
Specifications
Country of Issue: UK
Year of Issue: 2021
Coin Diameter: 38.61mm
Coin Weight: 28.28g
Obverse: Jody Clark
Reverse: Jody Clark
Metal: Cupro-Nickel
Finish: Brilliant Uncirculated
Edition limit: Unlimited
---
We Also Recommend
---