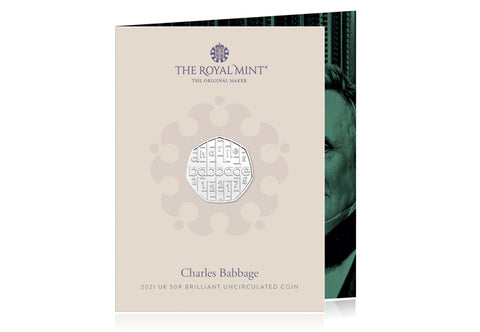 Stunning

Beautiful design, packed in a nice folder.
UK 2021 Charles Babbage 50p BU Pack
Own the NEW Charles Babbage UK 50p BU Pack
Attributed to being the first person to develop the automatic digital computer, Charles Babbage has been thought of as having ideas a century ahead of his time. He was a revolutionary inventor and mathematician and a firm believer that scientific advancement should benefit everyone.
And now his life and legacy is honoured on a BRAND NEW UK 50p coin, as this year marks 150 years after his passing and work.
This is the FOURTH coin in The Royal Mint's hugely popular Innovation in Science 50p series, following in the footsteps of Rosalind Franklin and John Logie Baird.
The reverse design, illustrated by creator's Nigel Tudman and Jas Bhamra, celebrates Babbage's scientific legacy, linking his machinery to the digital age.
This coin has been struck to Brilliant Uncirculated quality, so you know it will be free from any of the marks or blemishes you would find on coins in your change.
What's more, it comes beautifully presented in stylish packaging from The Royal Mint and is available at The Royal Mint's official issue price of JUST £10 (+p&p).
Specifications
Country of Issue: UK
Year of Issue: 2021
Coin Diameter: 27.3mm
Coin Weight: 8g
Obverse: Jody Clark
Reverse: Nigel Tudman and Jas Bhamra
Metal: Cupro Nickel
Finish: Brilliant Uncirculated
---
We Also Recommend
---