All you need to know about the new 12-sided £1 coin collector editions
Posted by Mark Liversidge on
A brand new 12-sided £1 coin is replacing the UK's familiar 'round pound' and today The Royal Mint has issued its £1 Collector Coin range with edition limits that seem certain to sell out quickly.
The new £1 is the single biggest change to the UK's coinage since decimalisation, and serious collectors are looking to mark this numismatic milestone with something a bit special. 
Here's your guide to the most collectable versions of the new 12-sided £1 coin.

Perfect Quality. Very Affordable.

Of course, quality is everything for coin collectors, which is why The Royal Mint is producing a collector quality base metal version of the new 12-sided £1 coin. Unlike the coins issued into circulation, these pieces have been specially struck and carefully handled to ensure that they remain free of the scratches and chips found amongst their circulating counterparts.
Known as Brilliant Uncirculated (BU), they are available for £10.00 in a Royal Mint Presentation Pack or £6.00 in a Certified Brilliant Uncirculated Collector Card.

28th March - a Day to Mark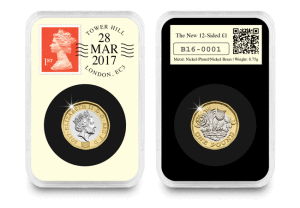 Whilst the Brilliant Uncirculated Coin is not issued in a limited edition, just 2,017 coins have been set aside for an 'issue day' DateStamp™ release. Professionally encapsulated alongside a 1st Class Stamp officially postmarked by Royal Mail with the 28th March release date, the New £1 DateStamp™ issue allows you to mark the release of the new £1 coin with a unique limited edition one-day-only piece for just £20.00

Silver Proof - the Collector's Favourite
Perhaps the most important of the Collector Editions is the Silver Proof £1 Coin. Silver Proof coins have all of the qualities that collectors really desire.
Precious metal content - struck from 925/1000 Sterling Silver with 24 Carat Gold-plate to create the outer ring.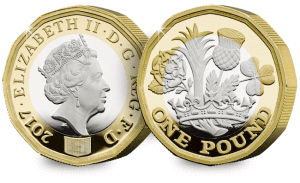 Strict Limited Edition - just 25,000 individual coins. That's HALF the number of Silver Proof £1 Coins that were issued for the original Round £1 Coin in 1983.
Perfect Proof Finish - even better than Brilliant Uncirculated, Proof coins are struck several times using specially polished dies to create a flawless finish with a perfect mirrored background and frosted design. The ultimate in coin quality.

Double the thickness. More than five times as limited.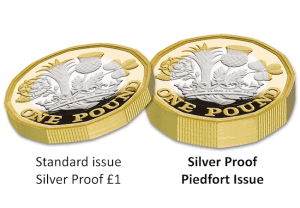 For silver collectors looking for something even more collectable, the double thickness Piedfort edition is likely to be the first of the £1 sell-outs.
That's because collectors not only own a rare double-thickness new £1 coin but there are just 4,5000 of them - less than five times the maximum mintage for the standard £1 silver proof. 
---
If you're interested...
You can pre-order any of the special Collector Edition 12-Sided £1 Coins today.
---
Share this post
---
---
---